The 2022 Subaru Love Promise Customer and Community Commitment Award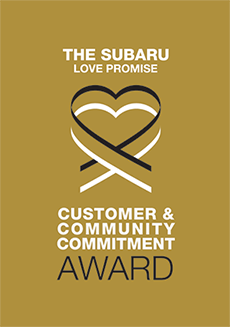 We've been nationally recognized for our dedication to our customers, our community, and the Subaru Love Promise.
We're honored to receive the 2022 Subaru Love Promise Customer and Community Commitment Award. This award nationally recognizes elite Subaru retailers who provide an exceptional customer experience at every interaction with Subaru. These retailers have also demonstrated an outstanding commitment to supporting passions and causes in their local communities in important areas such as the environment, community, health, education, and pets.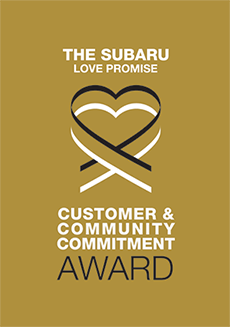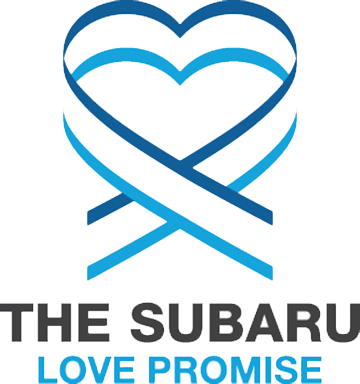 What is the Subaru Love Promise?
Subaru and our retailers believe in making the world a better place and the Subaru Love Promise is our vision of respecting all people. This is our commitment to show love and respect to our customers and to work to make a positive impact in the world.
How is Hendrick Subaru Southpoint dedicated locally to the Love Promise?
Our Love Promise can be seen in various partnerships with local charities and non-profits. We're grateful for the opportunity, not only to be a part of our community, but to serve it as well.
PTA Thrift Shop, Chapel Hill/Carrboro Public School Foundation
United Way of the Greater Triangle, Chapel Hill/Carrboro Meals on Wheels, Habitat for Humanity of Orange County, Compass Center for Women and Families, Chapel Hill Senior Center
Family House at UNC Hospitals, UNC Lineberger Comprehensive Cancer Center, Duke Cancer Institute, Duke Cancer Patient Support
Love Promise Stories from Hendrick Subaru Southpoint
Subaru and Hendrick Subaru Southpoint believe in making a positive impact on the communities in which we live and work. We uphold that belief through our Love Promise Community Commitment. Every month, we select inspiring stories from customers and partners from around our area who strive to support our collective commitment and feature them here
Eno Festival 2022 - Poonam N
We had a joyous time celebrating the Fourth of July weekend at the 43rd Annual EnoFest! Hendrick Subaru Southpoint team is proud to return to the Eno River as a sponsor to help conserve one of our community's most well-loved natural resources. We enjoyed live music, arts and crafts, educational exhibitions, local food trucks and fun on the river! The team gave away a variety of cool Subaru giveaways to festival attendees, including fans, hats and dog bowls, all perfect gifts for a hot summer day on the river. A certified pre-owned Subaru Ascent Touring and a Subaru Forester were also on display at our sponsor tent. The Eno River Association has been working since 1966 to protect the history and resources of the Eno River, and even helped influence the decision to designate property along the Eno as an official North Carolina State Park in 1973. Enofest is the biggest event for the organization, which raises funds and resources for their land protection, education, and advocacy programs. As part of our Subaru Loves the Earth Initiative, Hendrick Subaru Southpoint is grateful of our sponsorship to the Festival for the Eno 2022. Our continued partnership with the Eno River Association gives people throughout the Triangle area a space to learn and experience the natural resources that sustain our community.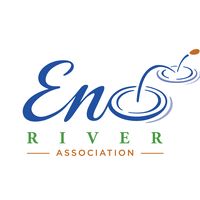 ---
"I can't wait to find out what kind of worlds the books lead me into." - Benay H
Book Harvest, a nonprofit committed to book access and literacy support, is back in schools after two years with its Books on Break program! All 14,092 K-5 students in Durham Public Schools get to choose books home at the end of the school year to read over the summer break and keep forever. A total of 67,635 children's books are being added to local home libraries in May and June 2022! One of the students received her books and wrote a thank you note that said: "Thank you for all the books. I LOVE books so much because they are like a portal to another world. When I read books it's like my mind goes into the portal and it's like I'm not even reading the book. It turns into a movie and my mind is going into a different world. I can't wait to read all, each and every, 10 of these books I got. And I can't wait to find out what kind of worlds the books lead me into. Books are amazing and are a part of my life. That's why I'm so grateful for these books. I love them. And even if I finish reading all of the books I will reread them over and over again." -Giselle Through their recent Share the Love Campaign, Subaru donated $16,450 to Book Harvest. Their generosity helps thousands of children like Giselle gain access to free, high quality, culturally inclusive books. Subaru's support sustains Books Harvest's goal of providing books for every child, support for every family, and literacy for every community. Thank you Subaru!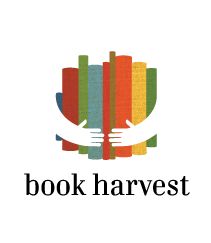 ---
Hendrick Subaru Southpoint Supports Pets in Need! - Paws4ever P
Hendrick Subaru Southpoint has been a Paws4ever partner since 2014, and we are so grateful that they included us once again in their Share the Love campaign in December 2021. The 2021 Share the Love campaign gave $12,470 to Paws4ever to help rescue, care for, and support animals in our community. We are so grateful for this support! Woody, one of our sweet adoptable pups, went on a field trip to Hendrick Subaru Southpoint to meet some of the amazing folks who helped Paws4ever to rescue him! Thank you, Hendrick Subaru Southpoint, for saving pets like Woody! Paws4ever is a nonprofit organization dedicated to creating and growing lifetime relationships between pets and people. Paws4ever supports pets and their people through rescue and adoption, dog training, Legacy Care, pet care education, and our membership-based dog park. Learn more at paws4ever.org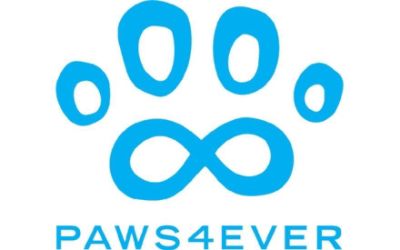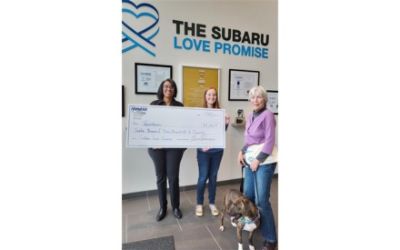 ---
Customer Happiness - Lessley M
My experience at Hendrick Subaru Southpoint could not have been better! I am the proud owner of my first Subaru (2022 Crosstrek), and I may never buy another brand again, or from another dealer. My buying experience was so easy and very comfortable, and all because of Ashley, David H, and Brad! Y'all made me feel so special, I felt heard, and I really felt like you cared about ME. As a person who struggles with decision making when expensive purchases are involved, I had apprehension about buying a new car. Ashley, David H, and Brad worked hard to make me feel really great and absolutely certain about my purchase. Thank you so much for everything. You have my highest recommendation! –Lessley Merklein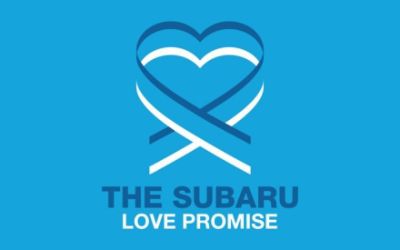 ---
Supporting Teachers and Students! - Madeline B
On the morning of March 5, 2022 the Chapel Hill-Carrboro City Schools community gathered on UNC's campus for the Public School Foundation 5K for Education. This fun family friendly annual event celebrates and supports public education. After two years of restrictions, everyone was excited to come together to run, walk, and cheer for each other. 2022 marked the largest 5K for Education ever with over 2,000 teachers, parents, students, and community members. We are grateful for the opportunity to be together and for the generous Premiere Sponsorship of Hendrick Subaru Southpoint! The sponsorship will support the work of the Public School Foundation including our new Student Engagement Bus that provides community outreach programs for students. The bus will be delivering books to neighborhoods this summer.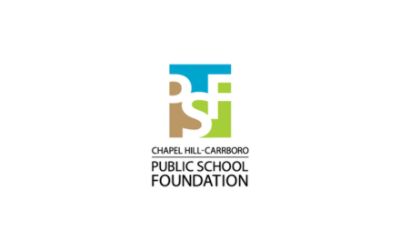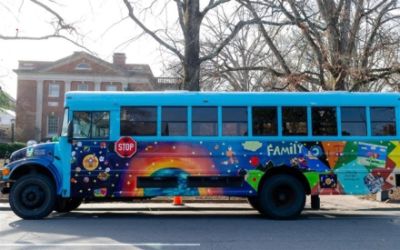 ---
Love, Warmth, and Hope - Lenny S
Each year, during the winter months, the Durham Rescue Mission runs short of blankets for our women and children's shelter. This year we received 80 blankets from Hendrick Subaru Southpoint. Many people would think that the blankets are there is to this donation, but they are a lot more than blankets. These blankets provide more than warmth, they provide hope. Our clients come to us beaten and broken, and children come with their parents scared to death and unable to trust. What may seem like only a blanket to some, to our clients they are a token of love and hope.It conveys the message that people really do care. For years, the folks at Hendrick Subaru have partnered with the Durham Rescue Mission, and Christmas 2021 their generosity provided Love, Hope, and Warmtn to the last, the least, and the lost.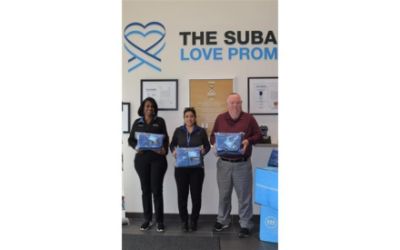 ---
Subaru Loves Pets: Nelson and Nora at Paws4ever - Emily A
Hendrick Subaru Southpoint supports Paws4ever as a part of the Subaru Loves Pets initiative. Paws4ever is a non-profit animal organization that rescues cats and dogs and supports pets and their families through adoption, training, education & care. By supporting Paws4ever, Hendrick Subaru Southpoint helped to save pit bull terrier puppies, Nelson and Nora. At 2 months old, Nelson and Nora were homeless. They needed their puppy preventative care, spay and neuter surgeries, and a safe place to live and play until they found a home. Paws4ever rescued Nelson and Nora from a crowded shelter and gave them the care they needed, thanks to support from Hendrick Subaru Southpoint. As part of Subaru Loves Pets month, Paws4ever will receive a $100 donation for each of the 24 pets that were adopted in October 2021. We are so glad to share that Nelson and Nora are included in that list! Nelson and Nora went to their new forever home together on October 2nd. Thank you, Hendrick Subaru Southpoint!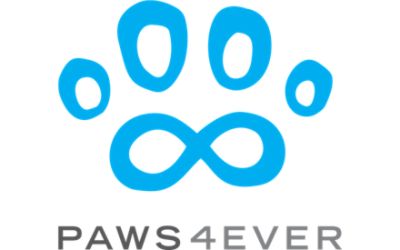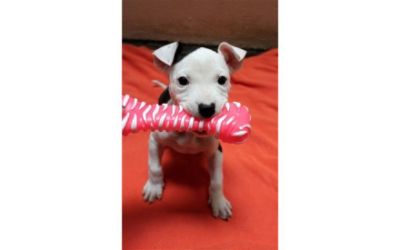 ---
A Summer of Books - Benay H
In May, Book Harvest set a lofty goal of sending 85,000 books home with families during the summer of 2021. With support from Subaru's Love campaign we knew we had the capacity to do the work, and before we knew it we past our 85,000 book goal! Then we passed 100,000 books...then when summer was officially declared over, a total of 118,970 books had been sent home with children! Book Harvest provides an abundance of books and ongoing literacy support to families and their children from birth and serves as a model for communities committed to ensuring that children are lifelong readers and learners. Hendrick Subaru Southpoint enables us to do this work. This summer we provided books to families through schools, Book Boxes at childcare/recreation centers, local libraries, businesses, and vaccine clinics. With the help of Subaru, we are building home libraries and nourishing young readers with culturally-inclusive, relevant books.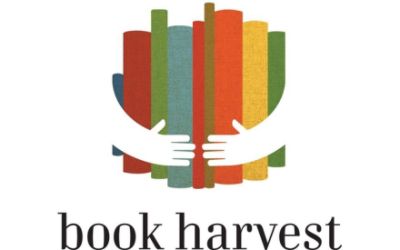 ---
Thank you for helping Paws4ever save kittens! - Paws4ever P
Every spring, countless pregnant cats and baby kittens need to be rescued. Our local county shelters don't always have the resources to care for all of them, and need rescue organizations like Paws4ever to help. Hendrick Subaru Southpoint supports Paws4ever through event sponsorships, supply drives, and the annual Share The Love campaign. Thanks to supporters like Hendrick Subaru, Paws4ever has been able to rescue many litters of kittens so far this spring. Kittens and pregnant cats need veterinary care, special attention, a cozy environment away from other animals, and a lot of love. With support from Hendrick Subaru Southpoint, Paws4ever places kittens and pregnant cats in foster homes and provides all of the supplies and support that fosters need to help raise healthy kittens! In addition to their financial support through Share The Love, Hendrick Subaru Southpoint helped save kittens this spring season by sponsoring the Paws4ever Kitten Shower. The kitten shower raised money and pet supplies to help care for kittens in need. Hendrick Subaru Southpoint supported the event and hosted a donation box at their dealership. Thank you, Hendrick Subaru Southpoint, for helping to save kittens and momma cats in our community! Paws4ever is an animal welfare organization dedicated to creating and growing lifetime relationships between pets and people through adoption, training, education & care. Learn more at paws4ever.org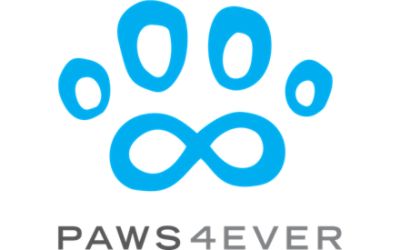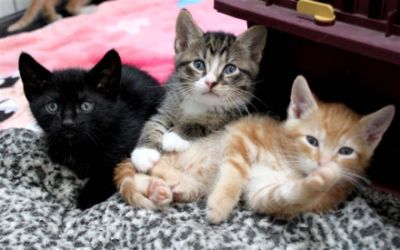 ---
Hendrick Subaru Southpoint Saves Pets! - Paws4ever P
Hendrick Subaru Southpoint has been one of Paws4ever's biggest supporters for the past 7 years. We are so thankful that they help animals in need at Paws4ever by hosting fundraisers, sponsoring events, and supporting Paws4ever through Share The Love. This year, the Hendrick Subaru Southpoint Share the Love campaign donated $16,800 to Paws4ever. After a year filled with so many unknowns due to the COVID-19 pandemic, we are incredibly grateful for this donation to support Paws4ever as we continue to help animals in need. Thanks to supporters like Hendrick Subaru Southpoint, Paws4ever was able to care for 472 animals in 2020. This includes our Adoption Center, Dog Training Program, Legacy Care Program, and community support. Paws4ever was able to help 187 dogs and cats find a loving forever home! We were also able to strengthen the relationship between pets and people by providing dog training classes and private lessons for more than 150 dogs and their families. Donations also help to provide knowledgeable staff, veterinary care and medications, shelter, food, and adoption support. We could not have done this without generous support from friends like Hendrick Subaru Southpoint! This is Keke (pictured), a two-year-old pup who loves hiking and adventures. She went on a field trip to Hendrick Subaru Southpoint to meet some of the amazing folks who helped Paws4ever to rescue her! Thank you, Hendrick Subaru Southpoint, for saving sweet pets like Keke! Paws4ever is an animal welfare organization dedicated to creating and growing lifetime relationships between pets and people through adoption, training, education & care. Learn more at paws4ever.org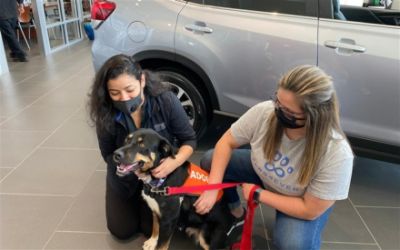 ---