The 2021 Subaru Love Promise Customer and Community Commitment Award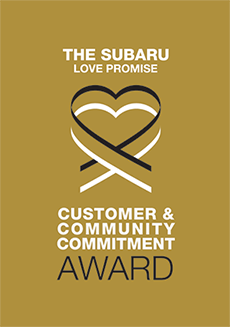 We've been nationally recognized for our dedication to our customers, our community, and the Subaru Love Promise.
We're honored to receive the 2021 Subaru Love Promise Customer and Community Commitment Award. This award nationally recognizes elite Subaru retailers who provide an exceptional customer experience at every interaction with Subaru. These retailers have also demonstrated an outstanding commitment to supporting passions and causes in their local communities in important areas such as the environment, community, health, education, and pets.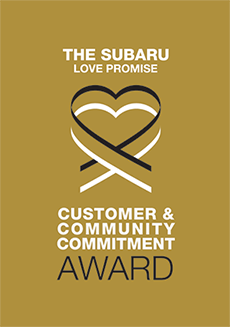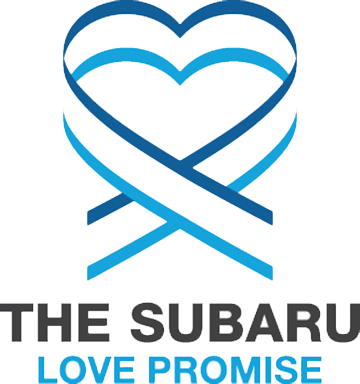 What is the Subaru Love Promise?
Subaru and our retailers believe in making the world a better place and the Subaru Love Promise is our vision of respecting all people. This is our commitment to show love and respect to our customers and to work to make a positive impact in the world.
How is Hendrick Subaru Southpoint dedicated locally to the Love Promise?
Our Love Promise can be seen in various partnerships with local charities and non-profits. We're grateful for the opportunity, not only to be a part of our community, but to serve it as well.
PTA Thrift Shop, Chapel Hill/Carrboro Public School Foundation
United Way of the Greater Triangle, Chapel Hill/Carrboro Meals on Wheels, Habitat for Humanity of Orange County, Compass Center for Women and Families, Chapel Hill Senior Center
Family House at UNC Hospitals, UNC Lineberger Comprehensive Cancer Center, Duke Cancer Institute, Duke Cancer Patient Support
Love Promise Stories from Hendrick Subaru Southpoint
Subaru and Hendrick Subaru Southpoint believe in making a positive impact on the communities in which we live and work. We uphold that belief through our Love Promise Community Commitment. Every month, we select inspiring stories from customers and partners from around our area who strive to support our collective commitment and feature them here
Love, Warmth, and Hope - Lenny S
Each year, during the winter months, the Durham Rescue Mission runs short of blankets for our women and children's shelter. This year we received 80 blankets from Hendrick Subaru Southpoint. Many people would think that the blankets are there is to this donation, but they are a lot more than blankets. These blankets provide more than warmth, they provide hope. Our clients come to us beaten and broken, and children come with their parents scared to death and unable to trust. What may seem like only a blanket to some, to our clients they are a token of love and hope.It conveys the message that people really do care. For years, the folks at Hendrick Subaru have partnered with the Durham Rescue Mission, and Christmas 2021 their generosity provided Love, Hope, and Warmtn to the last, the least, and the lost.
---
Subaru Loves Pets: Nelson and Nora at Paws4ever - Emily A
Hendrick Subaru Southpoint supports Paws4ever as a part of the Subaru Loves Pets initiative. Paws4ever is a non-profit animal organization that rescues cats and dogs and supports pets and their families through adoption, training, education & care. By supporting Paws4ever, Hendrick Subaru Southpoint helped to save pit bull terrier puppies, Nelson and Nora. At 2 months old, Nelson and Nora were homeless. They needed their puppy preventative care, spay and neuter surgeries, and a safe place to live and play until they found a home. Paws4ever rescued Nelson and Nora from a crowded shelter and gave them the care they needed, thanks to support from Hendrick Subaru Southpoint. As part of Subaru Loves Pets month, Paws4ever will receive a $100 donation for each of the 24 pets that were adopted in October 2021. We are so glad to share that Nelson and Nora are included in that list! Nelson and Nora went to their new forever home together on October 2nd. Thank you, Hendrick Subaru Southpoint!
---
A Summer of Books - Benay H
In May, Book Harvest set a lofty goal of sending 85,000 books home with families during the summer of 2021. With support from Subaru's Love campaign we knew we had the capacity to do the work, and before we knew it we past our 85,000 book goal! Then we passed 100,000 books...then when summer was officially declared over, a total of 118,970 books had been sent home with children! Book Harvest provides an abundance of books and ongoing literacy support to families and their children from birth and serves as a model for communities committed to ensuring that children are lifelong readers and learners. Hendrick Subaru Southpoint enables us to do this work. This summer we provided books to families through schools, Book Boxes at childcare/recreation centers, local libraries, businesses, and vaccine clinics. With the help of Subaru, we are building home libraries and nourishing young readers with culturally-inclusive, relevant books.
---
Thank you for helping Paws4ever save kittens! - Paws4ever P
Every spring, countless pregnant cats and baby kittens need to be rescued. Our local county shelters don't always have the resources to care for all of them, and need rescue organizations like Paws4ever to help. Hendrick Subaru Southpoint supports Paws4ever through event sponsorships, supply drives, and the annual Share The Love campaign. Thanks to supporters like Hendrick Subaru, Paws4ever has been able to rescue many litters of kittens so far this spring. Kittens and pregnant cats need veterinary care, special attention, a cozy environment away from other animals, and a lot of love. With support from Hendrick Subaru Southpoint, Paws4ever places kittens and pregnant cats in foster homes and provides all of the supplies and support that fosters need to help raise healthy kittens! In addition to their financial support through Share The Love, Hendrick Subaru Southpoint helped save kittens this spring season by sponsoring the Paws4ever Kitten Shower. The kitten shower raised money and pet supplies to help care for kittens in need. Hendrick Subaru Southpoint supported the event and hosted a donation box at their dealership. Thank you, Hendrick Subaru Southpoint, for helping to save kittens and momma cats in our community! Paws4ever is an animal welfare organization dedicated to creating and growing lifetime relationships between pets and people through adoption, training, education & care. Learn more at paws4ever.org
---
Hendrick Subaru Southpoint Saves Pets! - Paws4ever P
Hendrick Subaru Southpoint has been one of Paws4ever's biggest supporters for the past 7 years. We are so thankful that they help animals in need at Paws4ever by hosting fundraisers, sponsoring events, and supporting Paws4ever through Share The Love. This year, the Hendrick Subaru Southpoint Share the Love campaign donated $16,800 to Paws4ever. After a year filled with so many unknowns due to the COVID-19 pandemic, we are incredibly grateful for this donation to support Paws4ever as we continue to help animals in need. Thanks to supporters like Hendrick Subaru Southpoint, Paws4ever was able to care for 472 animals in 2020. This includes our Adoption Center, Dog Training Program, Legacy Care Program, and community support. Paws4ever was able to help 187 dogs and cats find a loving forever home! We were also able to strengthen the relationship between pets and people by providing dog training classes and private lessons for more than 150 dogs and their families. Donations also help to provide knowledgeable staff, veterinary care and medications, shelter, food, and adoption support. We could not have done this without generous support from friends like Hendrick Subaru Southpoint! This is Keke (pictured), a two-year-old pup who loves hiking and adventures. She went on a field trip to Hendrick Subaru Southpoint to meet some of the amazing folks who helped Paws4ever to rescue her! Thank you, Hendrick Subaru Southpoint, for saving sweet pets like Keke! Paws4ever is an animal welfare organization dedicated to creating and growing lifetime relationships between pets and people through adoption, training, education & care. Learn more at paws4ever.org
---
Subaru Love Promise - Poonam N
I guess my infatuation with this automobile brand and the Hendrick Dealership begins with a "chance meeting" with Mr. Bill Miller. Somehow the two of us were talking about cars and he gave me a business card. At first I really didn't pay it any attention. Fast forward to February 2014, I live 15 minutes from Duke Hospital but it took my wife 6 hours to get home from work during a snow storm. So now this "chance meeting" comes into play. It took me a few months to get up the nerve to walk into a Subaru Dealership, seeing that at that time they weren't that eye turning of a car. I did get to speak with Mr. Miller but he was a new car salesman. Learned a lesson about car buying that day. So I had to go home and regroup. I still wanted a Subaru BUT I was determined to get a Sedan not thinking of resale value. Finally, I purchased a 2013 Legacy and now I'm hot stuff because I'm the only one in my circle who drives a SUBARU. I guess what really sold me on the Brand was a meeting I had with the CPO manager. I saw a 2014 black Outback at another dealership, with 55,000 miles. I asked him how much would the car sell for and he told me the price but went a step further and said I can get you in a 2014 Outback. So we made it happen and now I'm driving a station wagon oops, a SUV. Since then my wife drives a 2015 Legacy, the initial 2013 Legacy has been passed down to my son in Medical School, the youngest son has a 2015 Outback, I was waiting for a great deal on a 2019 Ascent but realigned my thinking. I purchased a 2018 Outback 3.6R in May and recently traded it in for a 2019 Outback 3.6R with the Touring Package. I AM DONE BUT I have 2 sons who I am teaching them to appreciate the virtues of this Brand and this Dealership. You really try to stay away from naming individuals but I must tip my hat to Anna, Brad, Dave, DuBois, Will, Stacey, Vince & Jake. This is my sales team. I'm trying to recruit as many of my friends as I can to purchase a Subaru from Hendrick Dealership. Best Wishes, Teresa Rainey
---
Happy Customer - Elizabeth H
Longtime Customer & Friend my story starts in 1992 when I purchased my first brand new car. It was a Subaru Legacy Wagon from Performance Subaru Chapel Hill now Hendrick Subaru Southpoint in Durham. In September of 1993, I meet my husband Ralph, and he had a Subaru Justy. The start of a Subaru family. We had a car accident with the Legacy in November. It was around 11pm and we were out of state for the holiday. It had just started to lightly rain, we had come upon road construction, and the car slid in an oil spot. The car went spinning around a few times and hitting all the barriers on the highway and landed down the embankment. Thank goodness, everyone was safe, but terrified! If not for my husband's driving skills and the all-wheel drive and safety features on the Legacy, it could had been a lot worse. The Legacy had a lot of damage and months of repairs. So, I decided to buy another car and it was the Legacy Sedan. Between, 1994 and 2010, I had purchased many different cars. Again, an accident in November 2010 brought me back to Subaru. I decided to again purchase a new car in July 2011 for my birthday. It was a 2011 Subaru Forester XT. When I walked into Performance a Salesman, Bill Miller, greeted me. We had gone to high school together. Had not seen each other in years. He showed me around and introduced me to everyone. I was introduced to Anna Latta, she helped me with my purchase at the time and has helped with any problem I may have had for all these years. My husband had retired, was looking for some part time work. Anna suggested that he should apply to be a dealer trade transporter. Ralph has worked with transporting company part time ever since, and I help when needed. Anna has been a very dear friend to my husband and me over the last 9 years. I was introduced to Dave Mason, when I would go in for maintenance, I would always look at new cars while I was waiting. In addition, I would always talk with Dave about them. Dave was my husband's contact person for transporting cars. He has been a great friend to us both. Ralph Higgs is my service advisor now and is excellent! He is a great person to work with, especially when you are having problems with your car. He tells you what you need and when you need it. He makes sure that you are taken care of for transportation. He works very hard to make sure you are satisfied with the work being done. He has become my friend and I call him my other Ralph. Mike Robinson is my mechanic. He is the only person I will let work on my car. He is a great person to work with; he understands everything you try to tell him that is wrong, even if you do not understand yourself. He has worked on my car for 9 years. He is a great mechanic! I trust him completely! His recommendations are for your safety and welfare. That comes first. He has become my friend, someone I can talk car shop with, just like I did with my dad. This year has been difficult for everyone! I was on furlough from my essential medical job, my husband's part time job was very sporadic. Finally, I get back to work and trying to make ends meet. Then about 4 weeks ago, we had a really bad rainstorm. I was leaving work and notice that I had water dripping inside the car from the sunroof around the overhead lights. I took in the car for Mike Robinson to look at. Get the oil changed while it was there. Have not had the 60,000-mile maintenance done; now it has 86,000 miles. Therefore, it turns out that I forgot to get the oil changed it had been 9,000 miles since last changed, not good. It was going to cost a small fortune to have sunroof fixed, then there were metal shavings in the oil, another fortune, and other maintenance that need to be done. Small fortune getting bigger. Ralph Higgs calls me to discuss what needs to be done and how much it was going to be. Not great news! Had to make a difficult decision! Therefore, here comes the time to say it was time for another car. November 2020. Made the trip to the dealership. After test-driving many Subaru brands and working over 8 hours to find something that would fit our needs and fit the tight budget we had. We finally decided to lease 2020 Subaru Legacy Sedan. Subaru Family #5. Working with everyone was a great pleasure. It is nice to do business with people you consider your friends and family. Anna Latta, Dave Mason, Brad Woolley, Chris Kulis, Sam Haller, Chris Kinkade, Ralph Higgs, and Mike Robinson all of you are great! They understood that this was hard for us to do and they made it seem easy. Everyone worked hard in helping us make this decision. From trying to fix the old car, test driving, instructions on how the new cars worked and making us feel comfortable in finding something that would work for us. Thank you for Paws4Ever donation. For almost 30 years I have been a Subaru Family Member. Share the Love is not just about cars, it's the friendships you make along the way. Thank You and Be Safe! Love Always Sparky. Elizabeth Harkless
---
Honoring Outstanding Women of the Triangle - Rory G
Hendrick Subaru Southpoint sponsored the Women of Achievement virtual event produced by Durham, Chapel Hill and Chatham Magazines. We honored the women that were named in all three magazines for outstanding women that lead our community through their work across nonprofit, volunteerism, business, arts and community activism. This year, we hosted a lunch pick up at Hendrick Subaru Southpoint made by the culinary team at The Carolina Inn's Crossroads Restaurant. And, then we brought together the female leaders to both honor this year's winners and brought together past winners from the last seven years to hear two outstanding speakers that motivated us to take action in our communities, to respond to crisis with honestly and grit and to stay focused on our company and personal missions. Then, we had the unique opportunity (during this Covid period) to network and talk to one another. These breakout discussions helped us lift one another up and discover how each of us are responding to our unique Covid-pivots, as well as, how our leadership styles have changed and are evolving. Our participants felt heard and established relationships with other female powerhouses in the community. We at Chapel Hill, Durham and Chatham Magazines are so appreciative of your commitment to your community and bringing these strong voices together in a virtual room. And, we loved our pick up at your location! It was good to see faces of our friends and people we admire while delivering them a great meal in a drive-thru, safely distanced way.
---
Rapid Response for Young Readers - Daniele B
When members of the team from Hendrick Subaru Southpoint came to Book Harvest to deliver the check from 2019's Share the Love program a few weeks ago, they had the opportunity to see their generous donation dollars in immediate action, helping keep learning alive all summer long for kids and families in Durham, at our brand new Rapid Response Center. When schools closed in March and the usual 10-week summer break suddenly lengthened to five months, we knew we needed to find new and innovative ways to make sure all kids had plenty of books at home to keep their reading skills fresh while they were away from the classroom. That's why on April 1, we deployed our Rapid Response across Durham to provide books and literacy resources to children and families with the goal of providing 75,000 books by the end of August. Through innovative partnerships with food provision efforts, childcare centers, and Durham Public Schools, as well as daily contactless drive-through book pickup opportunities at our Rapid Response Center, as of July 31 we have provided 56,383 books to local kids...and we're not done yet! We couldn't be more grateful to our friends at Hendrick Subaru Southpoint whose Share the Love support makes work like this possible. Book provision and literacy support for families is critical year round every year, of course, but during this pandemic season, it could not be more essential. Book ownership not only supports at-home learning and provides kids and parents with an essential tool for keeping skills sharp, even during an extended school absence; it also provides children of all ages an opportunity to escape the confines of their homes and go on imaginative adventures, far beyond their own backyards. As one mom of an eight-year-old recently told us, "We both can go wherever we like in the world just by reading books." Thank you for helping us Share the Love through books, Hendrick Subaru Southpoint!
---
Festival for the Eno - OneEno Broadcast - Gloria M
A huge shoutout to Hendrick Subaru and Poonam Nandani for helping to sponsor our OneEno broadcast. This partnership helped us pivot from a huge onsite event to an extremely successful virtual broadcast that was viewed by more than 6,500 people who tuned in, interacted through comments, and participated by sharing the experience through social media posts and watch parties. Originating from the historic Carolina Theatre downtown Durham this event followed the cancellation of the originally planned festival at West Point Park due to Covid-19. The OneEno event featured live and prerecorded performance segments highlighting the music, story-telling, crafts, food-ways, dance, puppetry, and nature that would typically be a part of a Festival for the Eno experience. The evening was emceed by Joe Newberry and featured performances by the Hamiltones, Caique Vidal & Batuque, Jim Watson, Indigo de Souza, Jon Shain & Mark Simonsen, Sonny Miles, and Dwight Haskins with specials guests Violet Bell, John Dee Holeman, the Chatham Rabbits. As an event that raises funds and awareness for open spaces in Durham, the Festival for the Eno has had a 40-year impact on our community. It has helped to create five public parks and protected more than 7,000 acres of land for the benefit of current and future generations. These parks are used by more than half a million people each year for hiking, canoeing, swimming, and picnicking. They provide recreation, relaxation, and refuge for city and county residents -- as well as visitors from outside our area -- and are seeing an unprecedented number of visitors due to the pandemic The festival also helps protect the health of the land and water by protecting the Eno river and its tributaries which are the primary water supply for the area. The event is NC's first Green Certified Festival and sets an example for events across the region. In a similar mindset, Subaru became the first U.S. auto manufacturer to become zero-landfill and now is leveraging that expertise to help the National Parks reach zero-landfill too. We're honored to be part of the "Loves the Earth" campaign with Hendrick Subaru and happy to be aligned with such a forward thinking company.
---