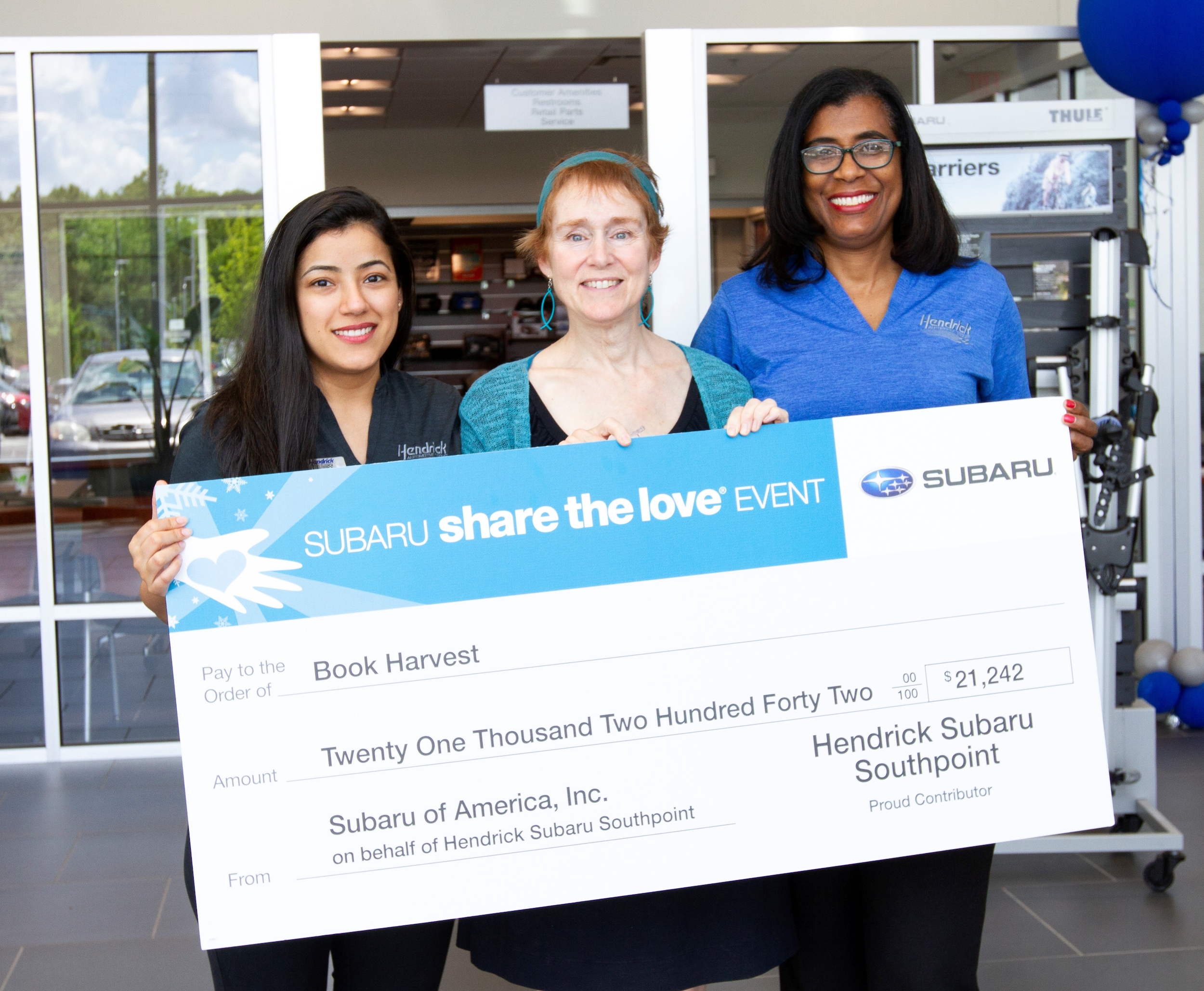 Poonam Nandani, Marketing Director, left, and Anna Latta, General Manager, right, proudly present the 2018 Subaru Share the Love Event contribution to Book Harvest Founder and Executive Director, Ginger Young, center.

At Subaru Southpoint, supporting local organizations that enrich our community is a mission close to our hearts. We are fortunate to be part of a brand so committed to taking action to make the world a better place. Each holiday season during the Subaru Share the Love Event, Subaru donates a portion of every new vehicle purchase to a charitable organization of the client's choice, from national charities to local initiatives.
During the recent 2018 holiday season, we supported Book Harvest as one of our Hometown Charities for the Subaru Share the Love Event. Based in Durham, Book Harvest works year-round to collect and distribute new and gently used books to children in need around the Triangle. Its mission is to ensure every child has access to age-appropriate and interesting books to help foster a love of reading and increase academic potential.
We are proud to partner with such a great organization committed to children's literacy. Not only do Book Harvest's efforts help children achieve more at school, they bring families together with reading and encourage the minds and imaginations of the next generation. We want to thank all of our wonderful clients who participated in the Subaru Share the Love Event! We are grateful for the opportunity to partner with you to support the education of the next generation here in the Triangle. None of our giving would be possible without you!
Be sure to look out for our next book drive benefiting Book Harvest!
More about Book Harvest
Book Harvest provides books to children who need them and engages families and communities to promote children's lifelong literacy and academic success. We believe that books are essential to children's healthy development and well-being and that all children deserve to grow up in book-rich homes. To that end, we will remove barriers to book ownership, to fuel a lifelong love of reading among America's children that will enable success in school and in life.