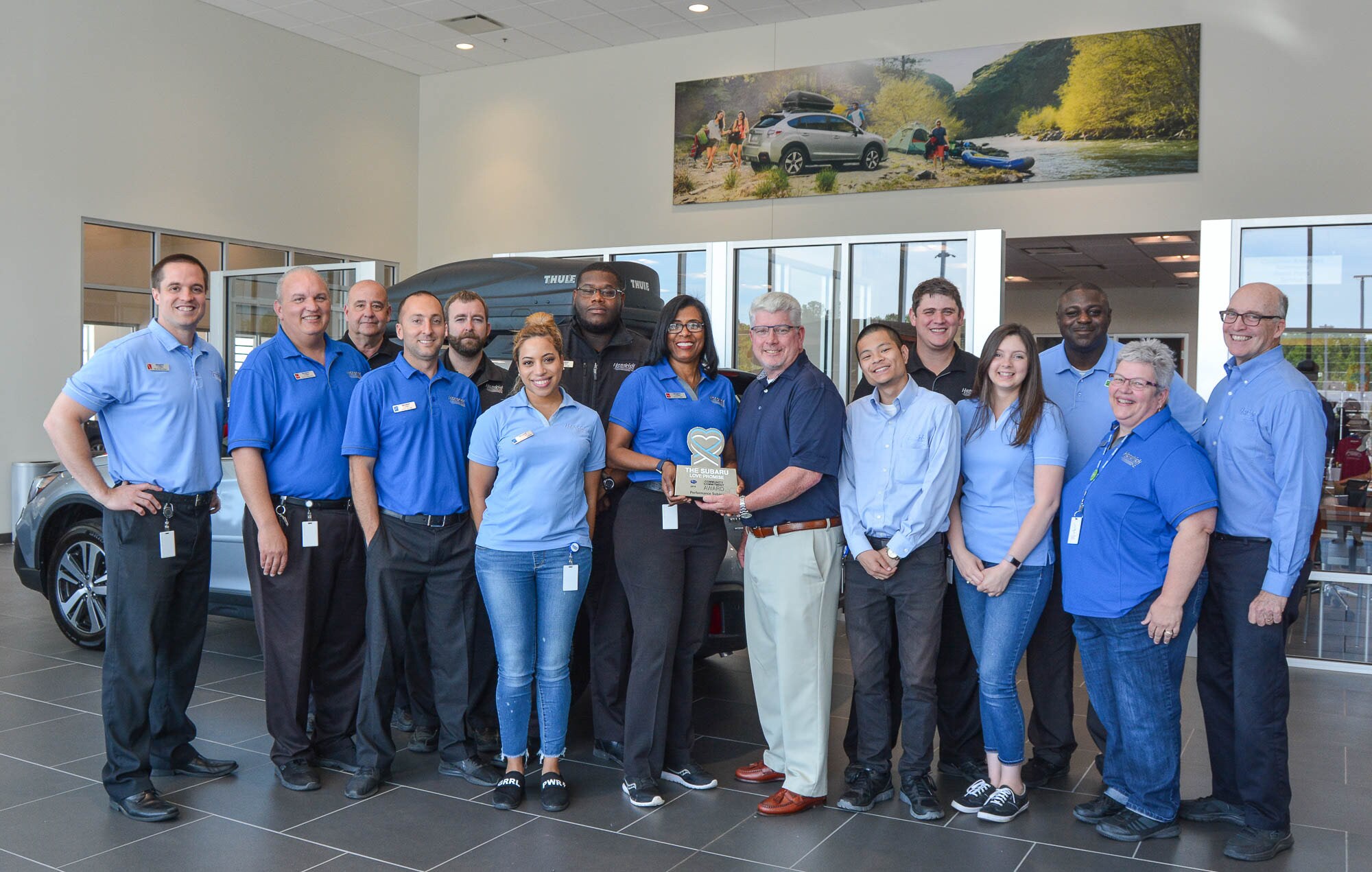 [Receiving Award: Retail Operations Manager Anna Latta, Presenter Subaru District Sales Manager Kelly Snow L to R: General Sales Manager Brad Woolley, Sales Manager Dave Mason, Product Specialists Carl Diederich, Chris Kulis, David Ernteman, Gabrielle Jordan, Trey Curtis, Benny Wong, David Hickerson, Lauren Wells, Vincent McLeod, Guest Services Agent Lisa Decker, and Product Specialist Bob Barrett]
Subaru has strived to make its brand people first and they achieve this by design with their safety first design plan. With Subaru being one of the safest most reliable vehicles on the road, it is no surprise to learn their growth has been steady through all economic climates in the United States. Subaru has created a product people want, but they haven't stopped there; they have also made several other promises to their clients and to the community.
The commitments above help to set Subaru apart from many other brands because their goal is to make the world a better place with the organizations they pair with and support. Subaru has also created the Love Promise Community Commitment Award to recognize those Subaru dealerships who diligently partner with their local community and community organizations to form strong bonds with their community.
Hendrick Subaru Southpoint was just presented with the 2018 Love Promise Community Commitment Award for their hard work and service in supporting the community. According to the award criteria, Hendrick Subaru Southpoint has embraced a culture of making the world a better place while demonstrating an outstanding commitment to supporting passions and causes in their local communities in important areas such as the environment, community, health, education, and pets.
How did Hendrick Subaru Southpoint attain this goal?
Hendrick Subaru Southpoint began this goal by signing the Love Promise Community Commitment pledge. They selected a hometown charity for Share the Love and committed to a donation match. They also posted a minimum of 2 Love Promise stories, and they were one of the five monthly Love Promise Community Commitment Story Winner or Runner-Up.
Not only did they achieve the Community Commitment Promise goals, they also achieved the Love Promise Customer Commitment Award which means they delivered the highest quality customer service, building customer preference for the Subaru brand and their business.
Retail Operations Manager Anna Latta explained the Hendrick Subaru Southpoint philosophy in community service is simple, "It is important to give back to the community and support them because they are your loyal clients, they are referring other clients by telling them how Hendrick Subaru Southpoint will take care of you. Your community is your life and it is important to show them how much you appreciate them and you are there to support them beyond being their car destination. We take care of our family and our community is our family."
How Can the Love Promise Community Award Benefit You?
When it is time to purchase your next Subaru or to have your Subaru serviced you have a choice of Subaru dealerships in the triangle area, and Hendrick Subaru Southpoint understands that choice and wants to be the only choice for you. They want to be grounded in the Triangle area community and so they work to provide a level of client care which envelopes the client as a family member and wants to not only earn your business but to keep it for the life of your current Subaru and all of your subsequent Subarus.
It is an honor to serve the Triangle community and Hendrick Subaru Southpoint is proud to offer the Subaru product and the core values in design, safety, community, and philosophy.
#HendrickSubaruSouthpoint #LovePromiseCommunityCommitmentAward #LovePromiseSubaru #Subaru #SubaruCommunity #SubieLove #RaleighSubaru #DurhamSubaru #ChapelHillSubaru #TriangleSubaru