This week Performance Subaru and Subaru District Sales Manager Kelly Snow met with Durham Meals on Wheels along with NC Senator Floyd B. McKissick Jr. and Durham NC Mayor Steve Schewel to present Meals on Wheels with a brand new Subaru Outback. Senator McKissick had his Nikon D750 and was snapping photos left and right of Outback Jack and the Meals on Wheels staff and volunteers.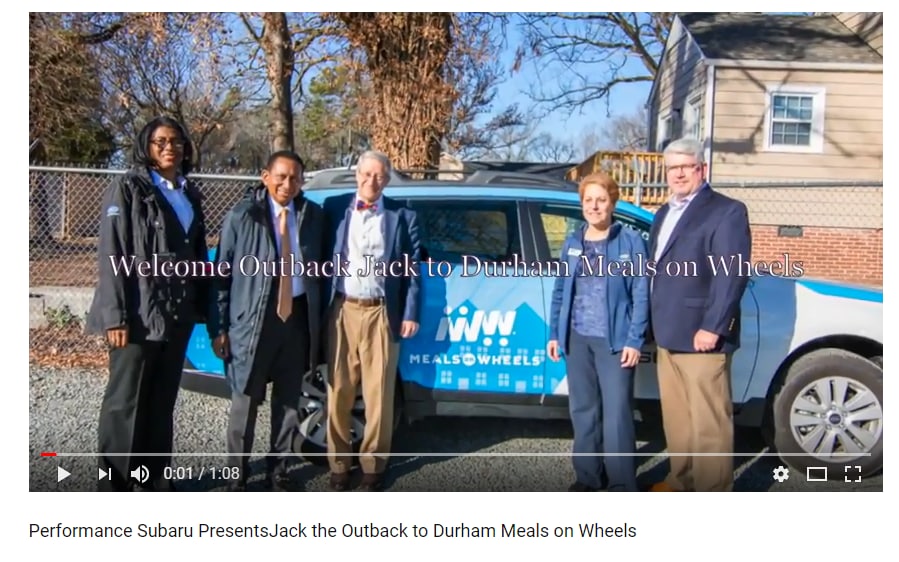 The new Outback lovingly named "Jack the Outback" is one of 50 cars Subaru of America is donating to Meals on Wheels of America, and Meals on Wheels of Durham in Durham, North Carolina was selected to receive one of the new Subaru Outbacks because of the significant impact it will have on Durham County including the delivery of an estimated 435 nutritious meals they deliver each weekday which adds up to over 120,000 meals per year.
The Outback will help to provide a economical and reliable source to help deliver these meals while saving money on fuel.
Performance Subaru has been a huge supporter of Meals on Wheels of Durham over the years and has watched it grow into a thriving pillar of the community. Retail Operations Manager, Anna Latta stated she is so proud to be a part of Subaru and holds their philosophy close to her heart. The Subaru Love Promise Community Commitment effort is "dedicated to making a positive impact on local communities across the country."
The Meals on Wheels facility is a cheerful friendly place with the smiling faces of the volunteers bustling around gathering the meals for their routes, and those getting the hot and cold bags ready to be to be delivered to the Meals on Wheels recipients. Executive Director, Gail Singer talked excitedly about the meals, what goes into preparing them, how they are low in sodium and the love and thought that goes into just the preparation. Her goal has been to grow, and she has done that, and plans to grow even more to serve the community.